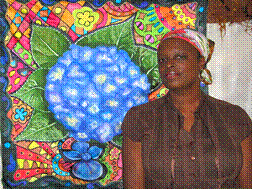 Patricia Jacobs, aka PJ Cobbs, is a former fashion columnist (New York Post) who gave up the Prada for a paintbrush.

The British-born Cobbs creates paintings on silk that are loved for both their form and their function, whether it's a graphic scarf that can be mounted as a wall-hanging or pillow (as featured in the August 16, 2007 New York Times Home & Garden section), or her "Comfortable Paintings" (as coined in the June 1999 House & Garden magazine), featuring images taken on her travels around the world that are turned into functional art.  
Returning to New York in 1995, she began her Portraits and House Portraits—capturing the essence of the sitter and home in living, breathing silk for wall hangings, oversized pillows and throws. 
A lover of fashion, Cobbs has turned a collection of vintage trench coats into works of art with hand-painting, appliqués and beads, selling at Gallery of Wearable Art in New York and through private clients and various wearable art shows.  She has also produced a successful line of custom hand-painted fabrics for Seventh Avenue designer Sylvia Heisel. Clients include actress Queen Latifah, supermodel Heidi Klum, TV personality Daisy Fuentes, best-selling author Harriette Cole and many others. Her work has been featured in the New York Times, Essence, Continental Airlines magazine, Uptown, New York Post, New York Daily News, Cigar Aficionado, House & Garden, Black Enterprise, Look Online.com, Fashion Wire Daily and Fiberarts. 
PJ has exhibited worldwide, notably at Casa Frela Gallery in Harlem, the American Gallery in New York and at the Harlem Textile Works. She was included in the Liverpool Biennial 2006. She teaches silk painting at the JCC Manhattan and the Brooklyn Public Library, and has taught in Hawaii at the Art School at Kapalua and the famed Hui Noeau in Maui.  
PJ now creates beautiful, colorful hand-painted scarves featuring oversized flowers that double as paintings. And she spreads the love though her signature PJ's Painting Party, which was wildly successful at a recent holiday event for Altria (formerly Philip Morris) at Cipriani 42nd Street and for K-Y Liquid Gel; for TheLunchClub.com. Today, her parties regularly draw a crowd eager to try their hand at painting on silk.  
"For me, painting on silk for fashion and function is a passion. In a time of fleeting, throwaway fashion, it transcends trends and it provides beauty to both the wearer and the observer in its perfect, colorful form."